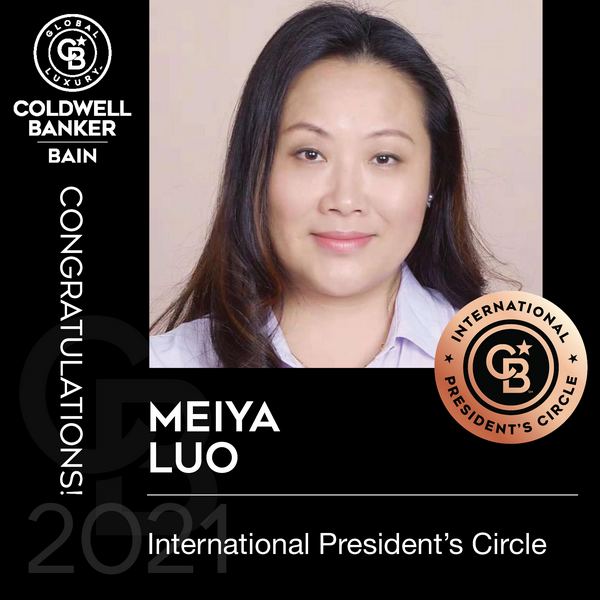 Meiya Luo:
Realtor,Tax Specialist
(Licensed in WA & OR )

Meiya Luo has a tireless determination and deep-rooted passion for real estate. She is the real deal. Meiya has worked every aspect of the business, representing Buyers, Sellers and Investors. Her extensive knowledge of the Pacific Northwest and real estate market ensure winning results for her clients. Buyers cite her ability to exceed their expectations in finding their dream property.
Meiya is a local realtor with expertise in the Asian-American community and speaks both English and Chinese fluently. Her clients point to her scrupulous attention to detail, her commitment to communication and her marketing abilities that keep the process moving forward seamlessly. Her investment clients appreciate her sound business judgment that lead to favorable returns. Whether buying, selling or investing, Meiya's clients praise her negotiating skills and remark on how her assertiveness and well-organized manner keep them satisfied with the results of each transaction.
Meiya Luo is the founder of Meiya Arts Education School in Vancouver WA. She has over 20 years of dance arts education experience. Her motto for life, as well as teaching dance is, "Your Utmost is Perfect." She contributes her Performance Art talent to the Chinese New Year Celebration Gala every year in Northwest of America.
About Me
I moved to vancouver washington state with my family 6 years ago from Shanghai China, I was certified ballet dance teacher for 20 years. I own dance school for 12 years. I started Meiya Dance School in vancouver washington state in 2013. Started my new carrier and get involved in real estate because my first investment property purchase without local realtor, So I made few mistakes.....
Real estate is interesting for me , It gather people together all of the world, and we become trusted friends .....
My goal is always achieve your home dream chasing. High efficient performance and deliver the best result is most of my client commence about me.....

After accumulating rich experience in real estate business, Meiya Luo successfully passed the WA Tax Agent Qualification Examination in 2017 and been hired by the second largest financial company( Jackson Hewitt Tax Service), as a seasonal tax consultant. She has rich experience about real estate investment and tax law. International buyers must know about any investment overseas and income tax and income taxes for foreigners, are common question before you start to buy and sell property......
********Awards & Wining History******
2017 International Sterling Society -Top Producer.
2018 International Sterling Society- Top Producer.
Coldwell Banker Bain Global Luxry property Member.
CoLdwell Banker Relocation Department Assigned Realtor.
2019 Coldwell Banker Global Luxury Propety listing Specialist.
2020 Coldwell Banker Global Luxury Propety listing Specialist.
2019 Luxry Property markteting specialist member in Clark County.
2020 Linsenced Tax preparer in Oregon State.
2021 Global Coldwell Banker Company Presidential Circle
2022 Realogy Relocation Certified Agent